"Chip's lyrics are basically an expression of an optimistic view of life, an attitude also expressed in his music."
George Kanzler – Hot House Magazine, December 2020 reviewing "PLAN BE DREAM MUSIC" (released 6/19/2020) and "MENTORS" (released 11/3/2020)
"Shelton really shows his versatility playing not just tenor, soprano, flute and piccolo, but alto, sopranino, bass clarinet and alto flute in addition to taking a few vocals."
Scott Yanow – The NYC Jazz Record, November December 2020 reviewing "PLAN BE DREAM MUSIC" (released 6/19/2020) and "MENTORS" (released 11/3/2020)
"'In-the-pocket' expressiveness offers listeners accessible sounds that have appeal to jazz afficionados and general listeners alike."
Joseph Mclaren – co-author of the Jimmy Heath Autobiography, in the liner notes of "MENTORS", Shelton's 10th CD release, November 3, 2020
"Wow!! What a beautiful piece of music."
Dr. Nick, SiriusXM and WPFW-FM Radio, Washington, DC regarding JUNETEENTH, The Chip Shelton Song: NAACP Virtual Town Hall, June 19, 2020
"Whether or not you seek a dream career, this "PLAN BE DREAM MUSIC" will inspire you to greater heights."
Ron Scott, Jazz Journalist, liner notes of Shelton CD #9, "Plan Be Dream Music," released June 19, 2020
"It is critical to distinguish between outcomes of having a 'day job' out of economic necessity; versus having a so-called traditional profession (in which one has genuine interest) as backup to one's deeply-rooted passion in music, the arts, athletics, etc."
Jazz Pensacola News, Shelton feature article, June 2020
"26% of flutists experienced flute-related pain…6% had taken extended time-off playing."
NY Flute Club Centennial Celebration, article, May 2020, reviewing Shelton's Performance-Workshop, "Playing Without Pain"
---
---
Article by Scott Yanow, November 2020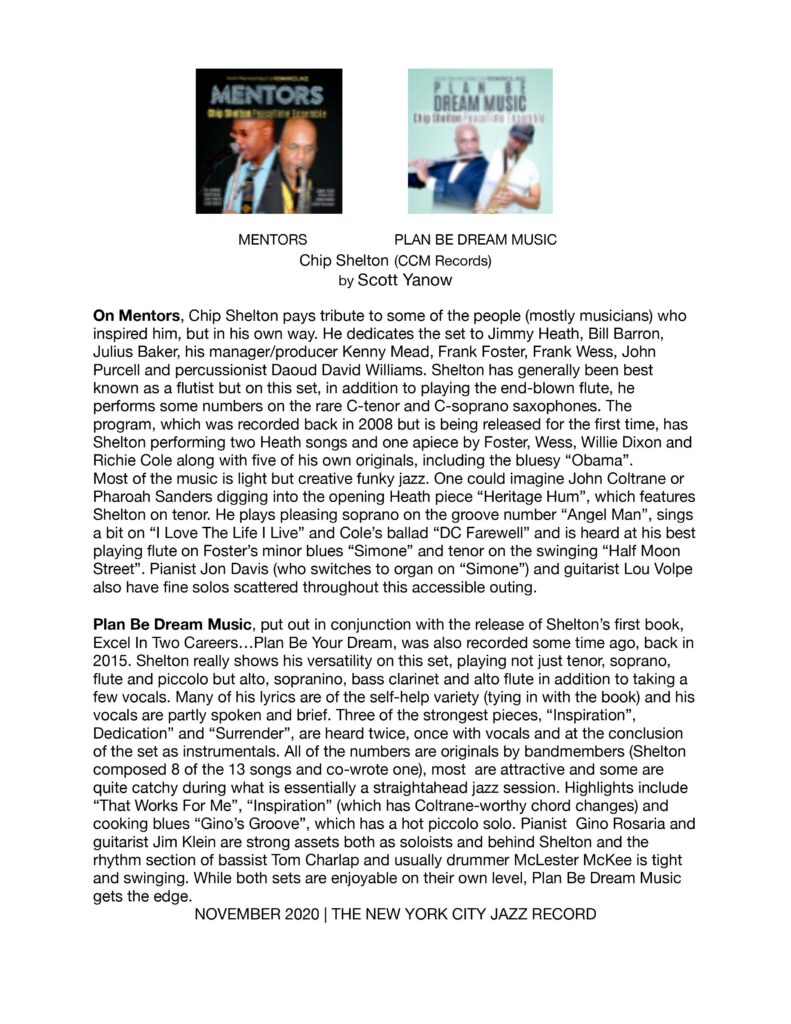 ---
Article by Debbie Burke- Jazz Author, October 15, 2020
Double Dreams, Double Time – Chip Shelton's "PLAN BE DREAM MUSIC"
As a package deal, a book and a jazz CD is an unusual combo and Chip Shelton takes it next-level. The orthodontist-by-day and all-around musician/composer has found the path to fulfilling not one but two dreams. His journey and the steps that got him there are the material that has become the book "Excel in 2 Careers…Plan Be Your Dream" (releasing by the end of this year) and his latest jazz CD "Plan Be Dream Music".
Shelton plays almost every woodwind known and is an accomplished vocalist too. His Peacetime Ensemble chills together on the CD with songs like "Business Before Pleasure" (Shelton channels a bit of the Mose Allison vibe, and the drums an…Read the full article by clicking here: Double Dreams, Double Time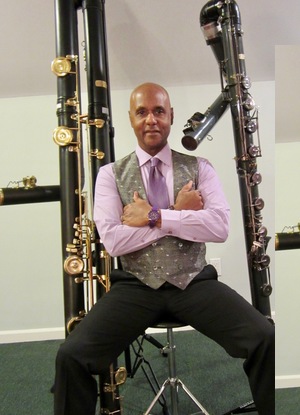 ---
Playing Without Pain: Prevention and Management
by Chip Shelton
Watch Video of the Event Here: "Playing Without Pain: Prevention and Management"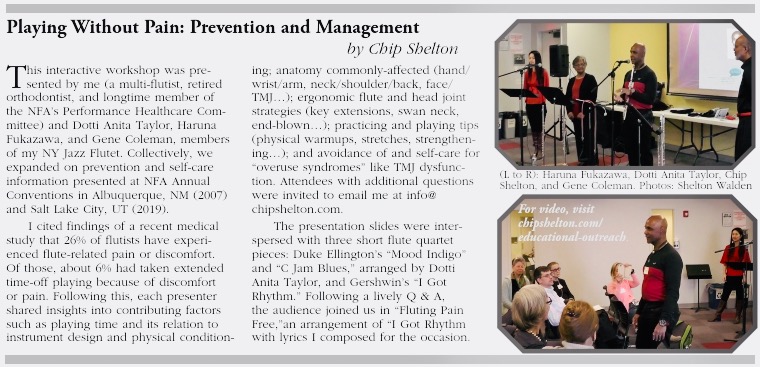 ---
The NAACP, virtual Town Hall on Friday, June 19th at 4 PM ET and Chip Shelton Juneteenth Song
June 19, 2020
By Don Slepian, Good News Planet
"WOW!! What a beautiful piece of music"
Dr. Nick, SiriusXM and WPFW-FM Radio, Washington, DC regarding JUNETEENTH, The Song
Listen now: https://chipshelton.bandcamp.com/track/juneteenth-the-song

Jim Klein- guitar, producer; Sipho Kunene- percussion;
Chip Shelton- piano, voice
NAACP Presents Juneteenth Family Reunion and Virtual Town Hall Washington, D.C. (June 18, 2020) – The NAACP, in conjunction with REVOLT, will host a special virtual Juneteenth Black Family Reunion and Juneteenth virtual Town Hall on Friday, June 19th at 4 PM ET/ 1 PM PT and 6PM ET/3PM PT. The afternoon of events will commemorate the ending of slavery in the United States with music, moments, and discussions around the growing awareness of racial disparities, mobilization, and bold actions necessary to further the fight for social justice and equal opportunity throughout the nation.
The Juneteenth Black Family Reunion will be hosted by Nischelle Turner of Entertainment Tonight with special guest appearances from Deon Cole, Actor and Comedian from Black-ish, Jenifer Lewi https://goodnewsplanet.com/wp-admin/media-upload.php?post_id=65373&type=image&TB_iframe=1s,
Actress from Black-ish, Whoopi Goldberg, award-winning actress and co-host of The View, Kierra Sheard, gospel-recording artist and actress, and Captain Kirk Douglas, legendary guitarist from The Roots, and many more.
"For many across this nation, Juneteenth signifies a momentous occasion that brings to light the sobering past of America," said Derrick Johnson, president and CEO, NAACP. "I am looking forward to joining with people from across the country to commemorate Juneteenth while also discussing actions and sweeping changes needed to move us toward freedom and justice." – Don Slepian
---
Jazz Pensacola News, June 2020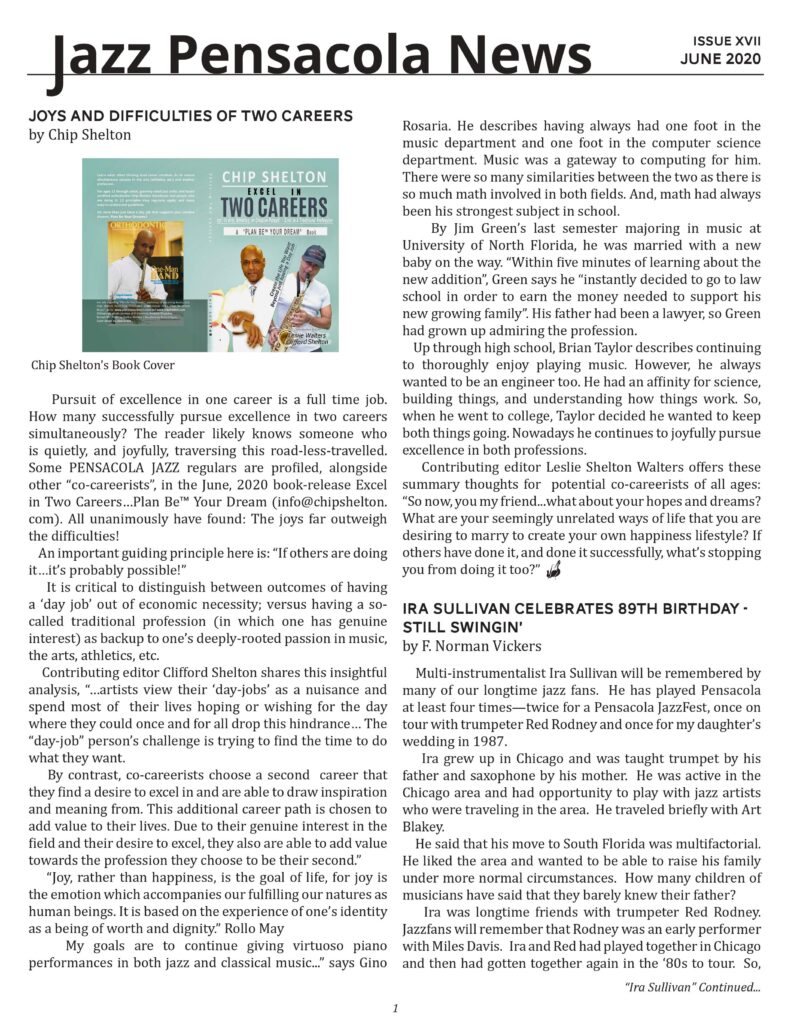 ---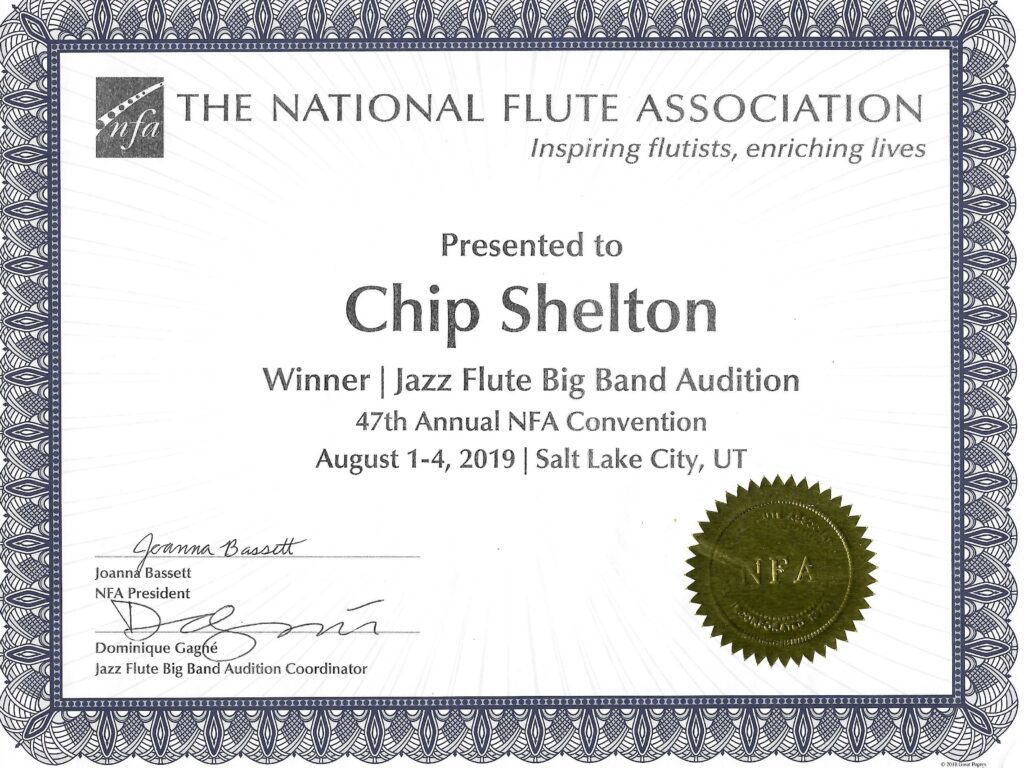 ---
"Chip Shelton 5 YEAR PLAN"
### For Immediate Release: Dec. 14, 2019 ###

Chip Shelton 5 YEAR PLAN

After 8 critically-acclaimed CD releases and a 'recording hiatus' to grow as composer, arranger, multi-instrumentalist, vocalist, and author, Chip Shelton is back with a 3-release bonanza.

Q2, 2020 CD #9, "PLAN BE™ DREAM MUSIC",spotlighting 9 Shelton originals and synchronized with release of my 1st book, "EXCEL IN TWO CAREERS…PLAN BE™ YOUR DREAM…"

The music, self-help book, and Plan Be™ Your Dream Performance-Workshops (age 12 to adult) resonate an inspiring force for 'creatives', musicians, athletes, etc. who wish to pursue their life's dream along with a 'backup' co-career; as Shelton, a board certified orthodontist (Ret), and others have successfully navigated.

CD Personnel: Gino Rosaria & Roy Meriwether- pn, Tom Charlap- bs, Jim Klein- gt, McLester Mckee & Sipho Kunene- dr, Dennis Cruz- perc, Chip Shelton- alt, sop, & sopranino sax's, bs clar, fl, bs fl, picc, voc, perc.Radio Promo by Neal Sapper, New World n Jazz.

Q4, 2020, release CD #10, "MENTORS",  paying homage to music mentors, past & present, singling out Jimmy Heath's "Heritage Hum" & "Angel Man", Frank Foster's "Simone", and Frank Wess' "Half Moon Street"; plus 5 Shelton originals, & his vocal flavorings on Willie Dixon's "I Love The Life I Live", & Richie Cole's "DC Farewell". CD Personnel: Marcus McLaurine- bs, Jon Davis- pn, Lou Volpe- gt, Dwayne Cook Broadnax- dr, Daoud David Williams- perc, Chip Shelton- C ten & sop sax, end bl. fl, perc, voc. 
 
Q2 2021, release CD #11, "SPECIAL DAYS EACH YEAR"which lends itself to year-round airplay, year after year, delivering 15 seasonal originals by Shelton. It will likely be a climactic blockbuster that (in concert with the prior 10 releases) spikes the Shelton name-recognition; airplay; and bookings for festivals, major-venues and PLAN BE™ YOUR DREAM PERFORMANCE-WORKSHOPS. CD Personnel: Noriko Kamo & Akiko Tsuruga- org, Sipho Kunene & Ray Newton- dr, Jim Klein- gt, Chip Shelton- alt sx, Bb fl, picc, vocal, pn, perc.

Years 2022-2025:                                                                                      
1. Re-assemble & record my WORLD FLUTE ORCHESTRA, the 1st known Jazz Flute Big Band, which I pioneered in the early 1990's.                    

2. Secure a weekly "big band night" booking at a major NYC venue, of the the above World Flute Orchestra 

3. Tour, perform, record, and do performance-workshops with my 4 working ensembles:
Chip Shelton PeaceTime Ensemble
NY Jazz Flutet
Flute Party Band
World Flute Orchestra – Crystal Clear Music, Inc.
"Sorbonne University Performance, March, 2014"
CONCERTS – CONFÉRENCES ÉVÉNEMENTS PRIVÉS Jazz à la Sorbonne, Paris, Fr.
The Spirit of Life Ensemble … and special guests!
Tribute to Ted Curson & Joe Lee Wilson
Sorbonne,University, Richelieu Amphitheatre – 27th March 2014 –

On the very stage where Ted Curson made his last recording, the SOLE's concert will show the strength of their music, the renewed celebration of jazz as a life force. The spirit of their music, rooted in the many-splendored forms of the blues, is the very definition of jazz. Whenever they played with the SPIRIT of LIFE ENSEMBLE they never failed to stir deep emotions, which the audience in Paris always greedily acknowledged. They forged numerous friendships in Paris, and special guests will help the band celebrate in good spirit.

The Spirit of Life Ensemble Daoud-David Williams (multi-percussions), David Robinson (tenor sax), Dwight West (vocals), Bob Ferrel (trombone), Rob Henke (trumpet), Chip Shelton (flute, alto saxophone), Katy Roberts / Tom McClung (piano), Calvin Hill (basse), Doug Sides (drums) and many special guests! – Jazz a la Sorbonne, Paris France
---
"St.Petersburg, Fl. Concert, July 29, 2011"
Have Flute Will Travel
Rick Gee's Jazz Jamm
St. Petersburg, Florida Weekly Challenger: Chip Shelton Performance July 29, 2011

Flautist/Saxophonist Chip Shelton had his flute; and true to his word, he traveled to St Petersburg from the Big Apple (NYC). This was his very first appearance in our town, and we at Rick Gee's Jazz Jamm were extremely excited to have him here. We welcomed him with open arms.

On Friday, July 29, Shelton performed in concert as the featured musician at the Renaissance Vinoy Resort & Golf Club in St. Pete. Providing support for this very talented jazz musician were local jazz musicians, The Tom Hamilton Trio, with Hamilton on bass, Ben Winkler on keyboards and Glenn Bush on drums. An added treat was a special guest conga player Andrew Maldonado, leader of the Latin Jazz Band, "Latin Roots". With highly skilled jazz musicians such as these gentlemen, you can imagine how "hot" it was in the Plaza Ballroom that night.

With Shelton on soprano sax the Hamilton Trio opened the first set with the Bossa "Little Sunflower." Shelton demonstrated his musical talents by playing not only soprano and alto sax, but flute and piccolo also. Some of the tunes that followed were "Straight, No Chaser", "Footprints," "Lady Bird," and 'Wave." In the second set the musicians worked on some favorite jazz standards, including… "Joy Spring," "Caravan," "St Thomas," "Days of Wine and Roses," "Confirmation," "Take the 'A' Train," and "Memphis Underground".

Shelton also took requests from the audience and played "Stella by Starlight," and "Misty". On "Misty" Shelton wowed the audience by playing the tune on piccolo. Several tunes later; the group allowed yours truly to sit-in, and I played "I Remember Clifford" and "Coming Home, Baby."
Fellow New York jazz musicians consider Shelton to be one of the hardest working men in show business. Shelton's "shine" has always been apparent to his listening audiences as well. His live CDs, released annually, demonstrate his dynamic live performances. His live recordings are part of a series called "Have Flute Will Travel.

Shelton swings high above the flames on his end-blown concert flute. Regardless of his repertoire of reggae. funk or straight ahead jazz penned by such notables as John Coltrane, Freddie Hubbard or Pharoah Sanders, he always leaves his fans and new listeners wanting more.

Although Shelton always wanted to be involved in music, he graduated from Howard University's School of Dentistry. as a back-up. In 1988-90, Shelton studied at the Manhattan School of Music, and with Julius Baker "the Dean of American flutists", including studies with Dr. Helen Hobbs Jordan. In an effort to learn everything he could about jazz, Shelton was mentored at the Jazzmobile, Inc. by Jazz Masters such as Jimmy Heath and Frank Foster. You can check out his website at: www.chipshelton.com.

Remember to 'Keep Jazz Alive" by "Supporting Live Jazz!"

Website: rickgeesjazzjamm.com
Feed back: rickgeesjazzjamm.blogspot.com
– Rick Gee's Jazz Jamm, the Florida Weekly Challenger
---
"AMG Review of Imbued With Memories"
Review by Scott Yanow

Chip Shelton Has Long Been A Very Talented And Fluent Flutist Whose Music Straddles The Boundary Lines Between Straight-Ahead Jazz, Soul-Jazz And R&B.

Imbued with Memories differs from most of his previous recordings in that the music was recorded in the studio rather than live in concert; it puts the emphasis on Shelton's regularly working group and, in addition to his playing on flute and piccolo, Shelton is also occasionally heard on a pair of his antique instruments: a tenor and a soprano sax, both of which are pitched to the key of C (rather than B flat). Otherwise, the music is typical of a Chip Shelton recording. It always grooves, even on "It Don't Mean a Thing." Among the more intriguing selections are a funky rendition of Joe Henderson's "Recordame," an R&B-ish vocal tribute (with Jann Parker) to Martin Luther King ("MLK"), and Shelton's mournful C-tenor on "Tsunami After-Prayer." Guitarist Lou Volpe takes honors among the supporting cast. Recommended to lovers of funky jazz. – All Music Guide
---
"Premier Sunday, XM Satellite Radio"
PREMIER SUNDAY on Beyond Jazz…XM 72
…as we present another Premier Sunday on Beyond Jazz. …we're happy to turn you on to more new music from some of the newcomers to Beyond Jazz… with a master of saxes and flute, and a fine writer too, Chip Shelton, joined by a great group of New York area players on his new CD titled "Peacetime."…

Listen for cuts from this cool, new release beginning at 10 PM Eastern/7 PM Pacific, right after our new show THE MOJA REPORT with MARK RUFFIN on another Premier Sunday…part of The Sunday Specials, from XM 72, Beyond Jazz.

Russ Davis
Program Director
Beyond Jazz
(((XM))) Satellite Radio
– Russ Davis, XM-72, Beyond Jazz
---
"TwinsJazz, Wash.DC, June 17, 2008"
[Link to review with photos: https://www.soul-patrol.com/jazz/chipshelton.htm]

Concert Review Chip Shelton/Peacetime @ Twins Jazz Club in Washington DC (5/17/2008)

This past Saturday night at Chip Shelton's CD release party for his EIGHTH ALBUM, "Imbued With Memories" at Twins in Washington DC, was quite simply an amazing event, in front of a PACKED HOUSE FOR BOTH SETS. By the way, you can listen to Chip Shelton's New Release, "Imbued With Memories" (featuring the entire album + an interview with Chip) exclusively on Soul-Patrol.Net Radio at: https://www.soul-patrol.net/chip_memories.ram

(and sometimes there is "elegance in simplicity")

– It was a GREAT evening for Chip Shelton.
– It was a GREAT evening for Twins Nightclub.
– It was a GREAT evening for Jazz.
– It was a GREAT evening for Black Music/Culture.

And it all really did happen, on a warm spring night, right in the middle of America's ORIGINAL…"chocolate city"

(the home of DUKE ELLINGTON)

And I have no doubt that the "Duke" was looking down on us and smiling…

First let me tell you about the music. Chip and his band were "on tha one" in more ways than one. They simply flat out SMOKED. Some jazz artists & fans traditionally have a problem in trying to classify things by musical styles. They get caught up into so much of a terminology game ("smooth jazz" vs. "straight no chaser" vs. "fusion", etc) that I think that sometimes they forget that the music is supposed to be fun. If I had to describe the type of music that Chip played last night I suppose that I would say that it was very "CTIesque". But for those of you who don't know or care what that term means, I will tell you that musically it was a whole lotta fun. Chip Shelton "channeled" Hubert Laws, Stanley Turrentine, Ronnie Laws, Herbie Mann, Louis Jordan, Eddie Harris and more during the show. One of the highlights for you Classic Soul fans was Chip's cover of Donny Hathaway's "Valdez in the Country" (taken from Chip's new album "Imbued With Memories.") Another highlight was the song "Cliff Notes" (also taken from Chips new album "Imbued With Memories) a very funky cut inspired by the artistry of the legendary Clifford Brown.

Longtime Soul-Patroller and longtime Washington DC area radio personality "Dr" Nick Johnson was the emcee for the evening. Nick can be heard worldwide via XM Satellite Radio daily as the host of "Soul Street" every morning. "Dr" Nick is someone that I have known for a long time and I was honored to have him introduce me to the crowd. When he did so the entire room greeted me with warm and enthusiastic applause. Did my ego a whole lot of good, but more importantly that told me that the that the online promotion for the show had been effective. Twins Nightclub (www.twinsjazz.com) was full for both sets. It was a classic jazz club type of setting, with a twist. They had a menu of fantastic Ethiopian food that my family of picky eaters thought was off the chain.

The crowd was 99 & 44/100 percent Black. That certainly wasn't by design, but I thought that it was most interesting, since the racial mix at most jazz clubs that I have been at over the past few decades has been overwhelmingly white. That's not a bad thing, but it always causes me to wonder just why it seems that Black folks seemed to have abandoned jazz? I don't pretend to have the answer to that question, however I do think that it's worth pointing out that the presence of BOTH the hosts of "Soul Street" and "Soul-Patrol.com" in the house says volumes about the "soulfulness" at the heart of Chip Shelton's music. Thinking about the "CTIesque" nature of the music, the "Saturday night fish fry 99 & 44/100 percent Black crowd, the "chocolate city" location it all had a "Grover Washington Jr." type of vibe, that left me smiling.

On a personal note…
In addition to "Mrs. Earthjuice", I brought my daughter 15 year old daughter Rachel. Soul-Patrol's Greer Muldoon brought her 15 year old son Tyler. For both of these two young people it was their first time ever at a jazz club.

Some of yall will remember meeting Tyler at the 2004 Soul-Patrol Convention and seeing just how excited he was at seeing a live band
(RioSoul) perform for the first time in his life and how excited he was to have been a part of Badal Roy's Tabla Drumming workshop.

And of course as you all know, Rachel runs hot & cold with this kind of stuff. Nevertheless both got quite a bit out of being there to hear the music, meet the musicians and more. The club was packed for both sets and both Tyler and Rachel hung in there for most of the three hours of live jazz. They both got to meet the musicians as well as many of the folks in the club.

Does this mean they will become lifetime fans of jazz? https://www.chipshelton.com

(I dunno)

But I'll bet they will never forget last sauturday night as long as they live. And they both will always know, just what it's like to see/hear LIVE JAZZ done in a classic setting – Soul-Patrol
---
""4 1/2 Stars": AMG Review of Cape May Live CD"
Review by Ken Dryden

Multi-reed player Chip Shelton is in top form throughout this concert recording, producing two entire discs from one single evening. Well accompanied by organist Doug Carn, guitarist Lou Volpe, and drummer Sipho Kunene, Shelton starts the gig with "Imprints," a deliberately obvious reworking of Wayne Shorter's "Footprints" that takes on a life of its own with the leader's strong soprano sax. The percolating take of "St. Thomas" finds him switching to piccolo and featuring Carn and Volpe extensively. Shelton plays flute in a funky medley of "All Blues" and "Well, You Needn't." The second disc takes on a breezier vibe, starting with Volpe's "Astral Island." With the leader back on flute, "On Green Dolphin Street" is recast with a reggae rhythm, avoiding the typical settings of this warhorse and giving the piece a new lease on life. Shelton's lyrical flute in "Body and Soul" is an obvious highlight, while the humorous, extended workout of "Comin' Home Baby" leaves his audience wanting more, the way it should be. Highly recommended.

– All Music Guide
---
"June 2007 Live Performances"
…this 2nd of a three part series of concert reviews celebrating the release of Chip Shelton's …"HAVE FLUTE WILL TRAVEL, STOP 2, CAPE MAY JAZZ FESTIVAL LIVE!"?
… part 1… Thursday, June 7, Cecil's Jazz Club & Restaurant, West Orange, NJ.
…part 2, FRIDAY NIGHT JAZZ @ THE FIREHOUSE, CEDAR PARK, 50TH & BALTIMORE AV.
PHILADELPHIA, PA.

I arrived at the venue, located not far from Clark Park, the scene of our recent Soul-Patrol Convention at around 7pm. Cedar Park however is as different from Clark Park as night & day. First of all Cedar Park is
very small, it's what they used to call a "vest pocket park" composed of a small grass area & some swing sets, located at the "triangle" where two streets meet. The second part is that it's not in "University City",
it's in "West Philadelphia" and those seven blocks make all of the difference in the world.

Chip was on stage when I arrived, backed up by the same band (Doug Carn-Organ, Lou Volpe- Guitar, Sipho Kunene- Drums) that appear on his new album "HAVE FLUTE WILL TRAVEL, STOP 2, CAPE MAY JAZZ FESTIVAL LIVE!". A few of you may recall that we featured Chip's last album "Peacetime" here on Soul-Patrol.com last year. The new album is as different from the last one as "night & day". In a word "Peacetime" was "highbrow/experimental" and "Have Flute Will Travel, Stop 2, Cape May Jazz Festival Live!" is "lowbrow/funky."

At the Soul-Patrol Convention we had quite a bit of heated discussion about the future of jazz and the challenge of engaging the modern day Black community in the music we call jazz.
https://www.soul-patrol.net/2007jazz_panel.ram

It seems to me that both Chip's new album and the concept of presenting live jazz on Friday nights in a small neighborhood park in West Philadelphia just might provide at least part of the answer.

For those of you who like labels, this show would be described as "soul-jazz" of the type that we used to listen to back in the late 1960's/early 1970's at back yard BBQ's, fish fry's, block parties and marathon bid whist games! It was all about artists like Herbie Mann and
Freddie Hubbard. It was "jazz that you could dance to" and I saw people doing the bop & the lindy to the music of Chip Shelton on a mild Friday night on the corner of Baltimore & 50th street in West Philadelphia. It
was "jazz that you could see" as the street scene not unlike that depicted on the cover of the great Miles Davis album "On the Corner" came to life "on the corner" of Baltimore & 50th street in West
Philadelphia. It was "jazz that you could smell" as the aroma of BBQ & auto emissions freely mixed on the corner of Baltimore & 50th street in West Philadelphia. And lastly it was "jazz that you could hear" as the
sounds of Chip Shelton- Flutes, Sax, Vocal, Percussion, Doug Carn- Organ, Lou Volpe- Guitar, Sipho Kunene- Drums freely mixed with the urban street sounds of the corner of Baltimore & 50th street in West Philadelphia…
In short this was all great stuff and the overall environment in my opinion provides at least part of the answer to the questions raised about the "future of jazz" at the 2007 Soul-Patrol Convention. The music
must return to it's roots as "popular music" amongst the people who"originated the music." And Chip Shelton's not just talking about it, he's actually doing it!

Anyhow, tonight I'll be traveling to the "Village of Harlem" for part 3 of Soul-Patrol.com's coverage of the release of:
"HAVE FLUTE WILL TRAVEL, STOP 2, CAPE MAY JAZZ FESTIVAL LIVE!"
Featuring: Chip Shelton- Flutes, Sax, Vocal, Percussion, Doug Carn-
Organ, Lou Volpe- Guitar, Sipho Kunene- Drums

This time we will be at the legendary "Minton's Playhouse", the classic
'30s Harlem jazz house that discovered legends like Charlie Parker,
Miles Davis, Dizzy Gillespie and Thelonious Monk.

Saturday, June 9, Minton's Playhouse, 208 W. 118th at St. Nicholas Av.

—————————————-
Bob Davis
—————————————-
www.soul-patrol.com
SOUL-PATROL.NET RADIO
—————————————-
Here is a link to additional reviews not listed here on sonicbids…
https://www.chipshelton.com/reviews.htm – Bob Davis, Soul-Patrol.com
---
"Best of 2006 Award"
Happy New Year,

This is Bob Davis, owner of Soul-Patrol.com I wanted to wish you a happy new year and inform you of some good news. Your album Chip Shelton – "Peacetime" has been selected as one of "Soul-Patrol.com's Best of 2006." You can view your selection at the following url:https://www.soul-patrol.com/newsletter/2006/news12/best2006.html

As you can see you are listed there along with a hypertext link to a review, an audio presentation, an eCommerce site or your homepage, where Soul-Patrol readers can get a taste of your accomplishment.

We will be sending out a special email to all 44,000 Soul-Patrol Newsletter readers during the first week of January/2007 notifying them of all of the winners. We will also keep a link up to this awards page on every page of the Soul-Patrol.com website for the next 12 months (till we announce next year's winners).

…we have been giving out this award for the past seven years to artists that we feel have gone above and beyond in creating high quality music that helps to advance the culture that Soul-Patrol.com represents.

Congratulations on your selection for this award.

As always we will be making presentations of these awards at the 2007 Soul-Patrol Convention which will be held this year in Philadelphia in May/2007, in conjunction with the Philadelphia Black Heritage Festival. Watch the Soul-Patrol Newsletter for more details about the 2007 Convention!

… have a happy New Year and continued success.

Bob Davis

CEO Soul-Patrol.com
– Soul-Patrol.com
---
"Cape May Jazz Festival: November 2005"
Cape May Jazz Festival: November 2005
By Sandy Ingham

Having heard flutist Herbie Mann perform a number of times over his long career, culminating in his final performance at the New Orleans Jazz and Heritage Festival—while he was hooked up to oxygen—I was happy to learn that the Cape May (New Jersey) Jazz Festival was dedicating its Nov. 11-13 festival to his music.

And this was no token tribute. Dave Valentin was the headliner Friday night at Convention Hall, playing with guitarist Larry Coryell and pianist Marc Soskin, two who went way back with Herbie. On the drums was Mann's son, Jeff.

Saturday night, Hubert Laws and David "Fathead" Newman took over the big stage. And another flutist, Chip Shelton, held forth all night at one of the…festival venues in this picturesque seaside town…

Chip Shelton's last set finished up my festival in fine fashion, Shelton and bandmates Lou Volpe on guitar and Doug Carn on organ revisiting the Herbie Mann songbook one more time.

– All About Jazz
---
"Jim Santella Review of Peacetime"
Peacetime
Chip Shelton | Summit Records
By Jim Santella

Flutist Chip Shelton likes variety. His instruments are unique, and his musical programs always come with pleasant surprises. In addition to his arsenal of flutes from every musical register, he's elected this time out to add soprano sax and several poignant vocals to the program.

Shelton's lyrical flute warbles like a songbird in the sunshine of a cool morning on Horace Silver's "Peace" as Jann Parker interprets lyrics by Doug Carn. His soprano saxophone graces a hip arrangement of "I've Known Rivers" with sparkling colors. His alto flute can be found on his warm composition "Imprints," which drives straightahead with a dramatic quality that recalls John Coltrane's "Impressions."

Unlike the G alto flute, Shelton's B-flat alto flute has a timbre nearly identical to the C concert flute. His contrabass flute, on the other hand, runs to the far end of the family's tonal spectrum. This deep, dark, delicious and airy instrument can be heard briefly on "Down Home New York"…

Shelton's C flute remains his strong point throughout this, his third Summit release. Since the mid-1980s, he's brought a credible approach to flute jazz that cannot be discounted. Combining this natural method of expression with a hearty desire to swing and groove, Shelton has met continued success.

Visit Chip Shelton on the web.


– All About Jazz
---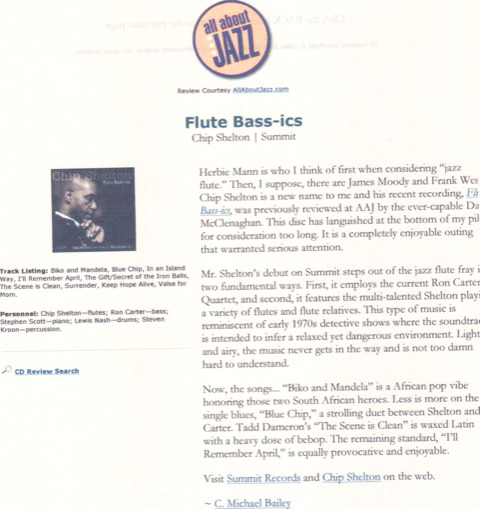 ---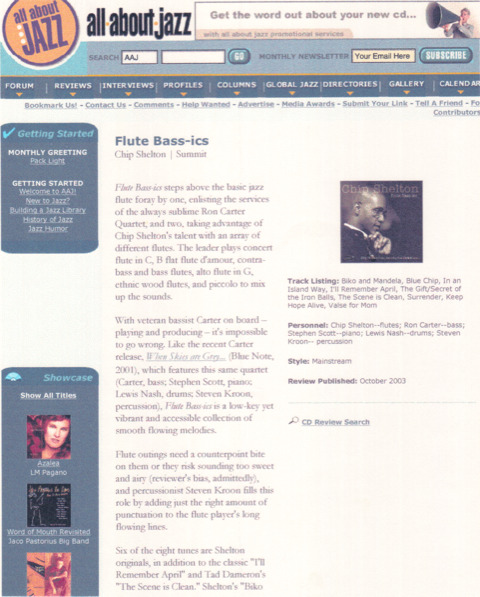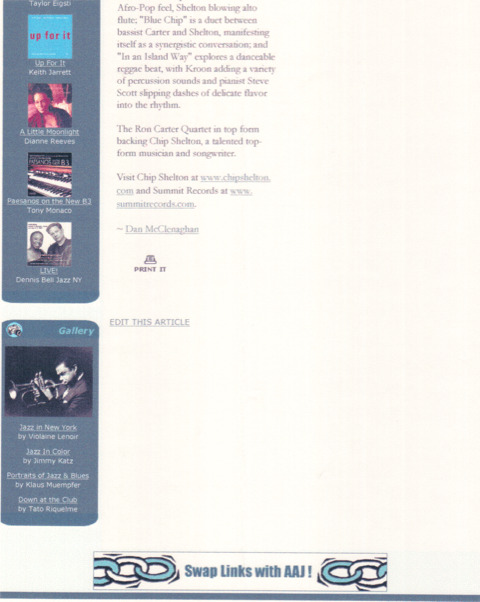 ---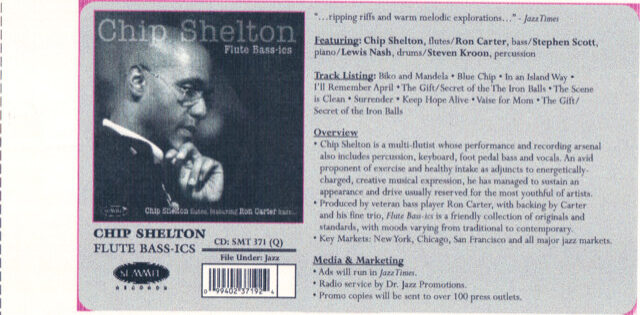 ---
"Flute Bass-ics Review"
By C. Michael Bailey

Herbie Mann is who I think of first when considering "jazz flute." Then, I suppose, there are James Moody and Frank Wess. Chip Shelton is a new name to me and his recent recording, Flute Bass-ics , was previously reviewed at AAJ by the ever-capable Dan McClenaghan. This disc has languished at the bottom of my pile for consideration too long. It is a completely enjoyable outing that warranted serious attention.

Mr. Shelton's debut on Summit steps out of the jazz flute fray in two fundamental ways. First, it employs the current Ron Carter Quartet, and second, it features the multi-talented Shelton playing a variety of flutes and flute relatives. This type of music is reminiscent of early 1970s detective shows where the soundtrack is intended to infer a relaxed yet dangerous environment. Light and airy, the music never gets in the way and is not too damn hard to understand.

Now, the songs… "Biko and Mandela" is a African pop vibe honoring those two South African heroes. Less is more on the single blues, "Blue Chip," a strolling duet between Shelton and Carter. Tadd Dameron's "The Scene is Clean" is waxed Latin with a heavy dose of bebop. The remaining standard, "I'll Remember April," is equally provocative and enjoyable.

Visit Summit Records and Chip Shelton on the web.
– All About Jazz
---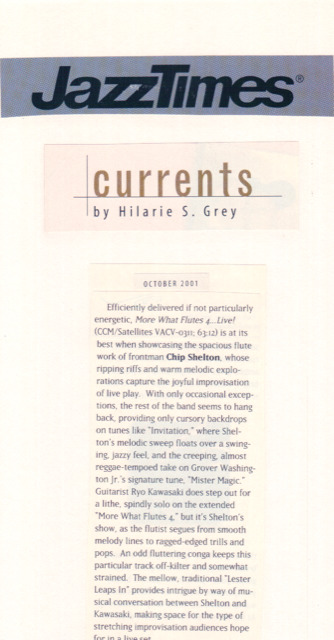 ---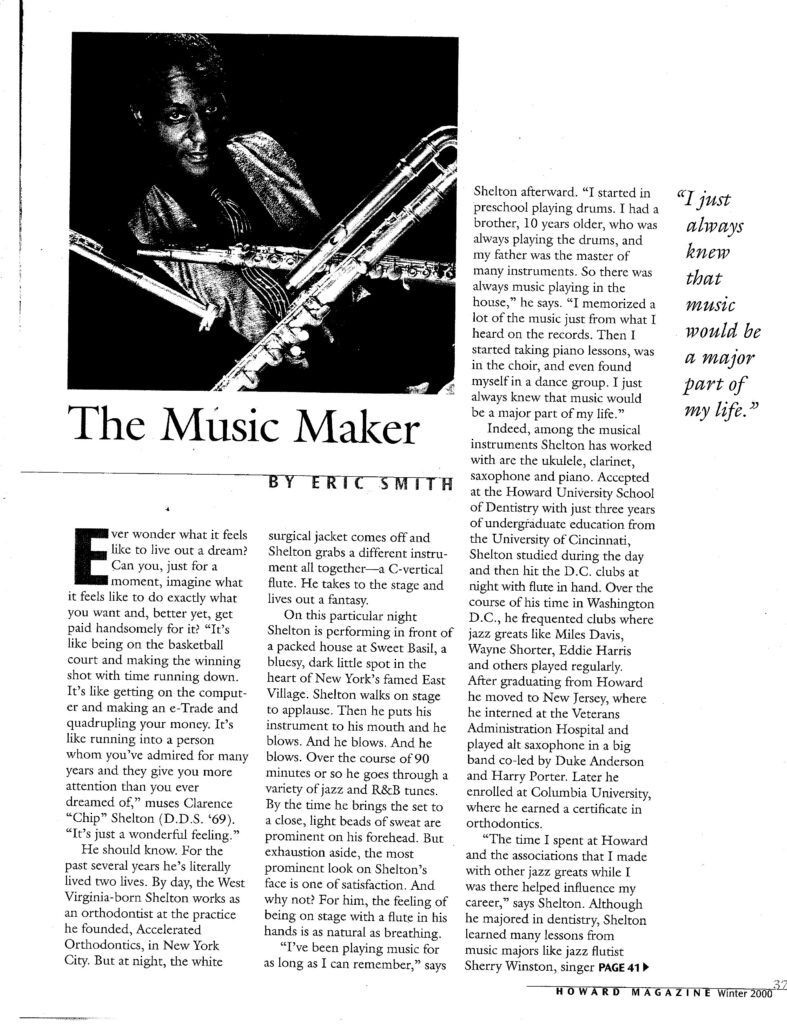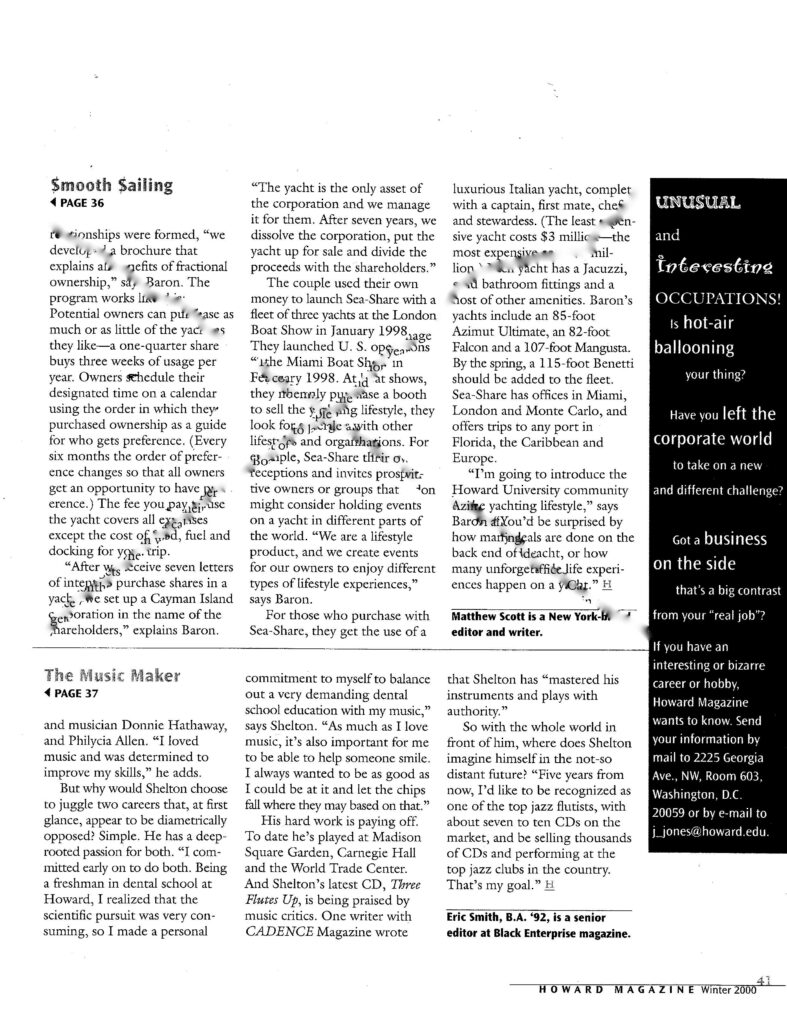 ---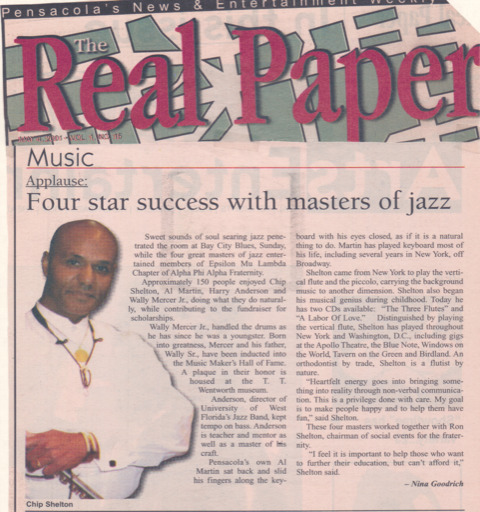 ---
"3 Flutes Up Review"
Featured Artist: Chip Shelton

CD Title: 3 Flutes Up

Year: 1999

Record Label: Satellites Records

Style: Contemporary Jazz

Musicians: Chip Shelton (c-vertical, alto and bass flutes), Ryo Kawasaki (guitar), Onaje Allan Gumbs (piano), Tom McKenzie (bass), Greg Bufford (drums), Guilherme Franco (percussion), Daoud David Williams (percussion), Everald Brown (conga), George Grey (drums), Mike Parr (vocals), Donald Smith (piano/vocals)

Review: Chip Shelton is a master on and of the flute. What a remarkable and creative individual he is with the flute. In a crazy world where people have an inner itch to give some artist "star ratings" when all that is truly necessary is to honestly say this is the way it is in words, Chip Shelton must have a star rating of 100 stars after his work! Shelton like most jazz creators are beyond the need for stars in their crowns because they have their music and their instruments! "3 Flutes Up" is a great CD, one where the performer gives full range and credit to the flute in all of its magical approaches!

There are 15 selections on this CD, and each is memorable. Nat Adderley's "Work Song" is included, along with Yusef Lateef's "Live Humble," and the enduring "Swinging Shepherd Blues." Chip Shelton performs on c-vertical, alto and bass flutes, Ryo Kawasaki on guitar, Onaje Allan Gumbs on piano, Tom McKenzie on bass, Greg Bufford on drums, Guilherme Franco on percussion, Daoud David Williams on percussion, Everald Brown on conga, George Grey on drums, Mike Parr on vocals, and pianist Donald Smith who also does the vocal on "Live Humble." Chip Shelton also performs some of his own compositions. Shelton is a remarkable performer and master of the flute.

This CD would make a fine gift for a friend and to have in the home library. The selection, "Transition," written by John Coltrane is another pleasant surprise, among many, on this excellent jazz CD. 100 stars!

Tracks: 15 selections including Nat Adderley's "Work Song", Yusef Lateef's "Live Humble," and "Swinging Shepherd Blues."

Reviewed by: Lee Prosser




——————————————————————————–
Copyright© 1999 JazzReview.com®. All Rights Reserved.
– JazzReview.com
---
"Chip Shelton Jazz…"just follow the muse""
With incredible talent and perseverance, Chip Shelton has earned a reputation as one of the renowned flutists in the world of jazz. And in recent years he has established himself as a formidable saxophonist as well.

What separates Chip Shelton from most other bandleaders is his ability as a multi-instrumentalist. He utilizes almost the entire woodwind family, and more .

Shelton's 8+ Flutes include piccolo, concert flute in C, Bb flute d'amour (by Yanagisawa), Eb flute, alto flute in G, bass flute, contra-bass flute, and the Wesley End-Blown flute (played in a saxophone position).

His 6 saxophones include tenor, alto, soprano, and sopranino, all by the Yanagisawa Company which Shelton endorses. He also broke new (and old) ground featuring his 1920's-vintage C tenor and C soprano saxes on his 8th CD release 'Imbued With Memories'.

Recently Shelton has added clarinet and bass clarinet to his arsenal. His performances and recordings frequently find him providing percussion, piano, and/or vocals as well.

Chip Shelton has 8 impressive CD releases to date. First was 'A Labor Of Love' on RUP Records in 1995; followed by 2 on Satellites Records; then 5 on Summit Records. Also, there was 'Limited Edition', a 2013 mostly-digital release by his own CCMS label.

Chip Shelton's shining and varied repertoire of originals and standards effortlessly incorporate straight-ahead-jazz, samba, afro-cuban, reggae, soul and more, always leaving his fans and new listeners wanting more.

Shelton played music from pre-school, but he graduated from Howard University's School of Dentistry, as a back-up. While a freshman at Howard U. he was on a mission for a saxophone with a mere $35 budget. His sax budget was short but Baltimore's North Ave. Pawn Shop hooked him up with a student flute.

New York City was next after Howard U. In NYC he studied with John Purcell privately, and at the Manhattan School of Music, as a Jazz Flute major. He studied classical technique with Julius Baker, the 'Dean of American flutists'. He also studied musicianship with Dr. Helen Hobbs Jordan. Shelton received saxophone and flute mentoring at Jazzmobile, Inc. from masters like Jimmy Heath, Frank Wess, and Frank Foster; with Bill Barron at The Muse, in Brooklyn; with Barry Harris and many others in an effort to learn the authentic jazz 'language'.

With confidence to test his chops in front of a tough NYC audience, Shelton hit the scene performing at the Cellar, Birdland, Five Spot, Rainbow Room… and thereafter venues and festivals worldwide."

'The music has a life of its own and I just follow the muse', says Shelton.

– Ron Scott- Jazz Journalist
---