Educational Outreach
High-powered Performance-Workshops deliver relevant music and career-planning topics, including (but not limited to):
 HOW TO's For Excelling in 2 Or More Careers
Chip Shelton, Introduction to Wind Instruments, 7/26/2021, D'Onofrio Park, New Rochelle, NY
The New Rochelle Council on the Arts, in collaboration with the New Rochelle Department of Parks and Recreation, recruited some of the city's most talented artists to expose youngsters participating in the "Summer Fun" camp (K-5th grade) to music and art.
Presentation Team:
Chip Shelton – Moderator, Saxes, Flutes, Keyboard
Bevin Turnbull – Keyboard, Trumpets
Shelton Walden – Videography
Kathleen Shelton – @ the "Prizes & Surprises" table
Special Thanks to: The New Rochelle Council on the Arts & Event Coordinator Colin Taylor, The New Rochelle Parks Department Staff & Organizers
Balancing Two-Plus Careers
Flute Playing with Braces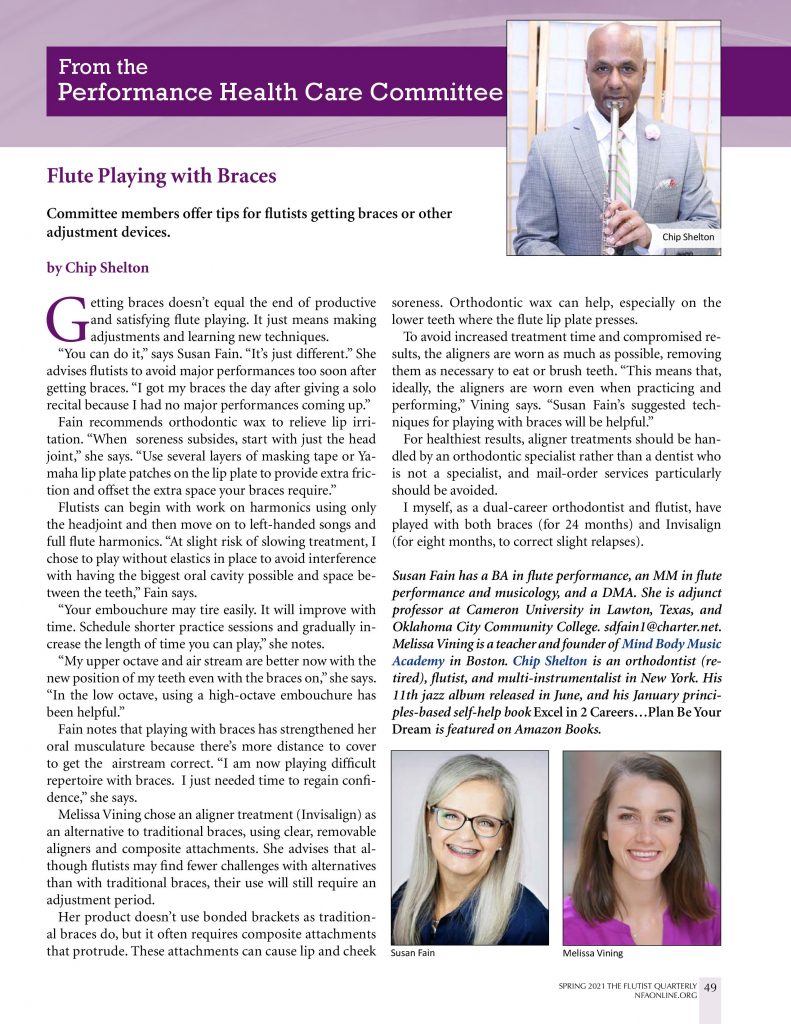 Improvisation 101/102 delves into little-known improvising techniques centered around recent brain wave studies. It gives fresh insight into the art of improvisation that inspires novice improvisors and those with experience. The presentation is customized to the predominant experience level of attendees.
Woodwind Instruments Demonstration
Woodwind Instruments demonstration and explanation of a "Blues" form for grade-schoolers
This Performance-Workshop (normally presented in-person with expanded content) occurred online during the "social distancing" period mandated in response to the 2020 COVID-19 pandemic. In compliance with school policy, the student-participants are heard but not seen.
"Playing Without Pain: Prevention and Management" is an interactive workshop that expands on prevention and self-care for instrumentalists (particularly flutists). It was originally presented by multi-instrumentalist/orthodontist (Ret.) Chip Shelton at National Flute Association (NFA) Annual Conventions in Albuquerque, NM (2007) and Salt Lake City, UT (2019).
As longtime board member of the NFA Performance Healthcare Committee, Shelton is regularly called upon to council and lecture to the 26% of flutists who have experienced flute-related pain or discomfort. Some have had to take extended time-off playing because of pain.
This 1 to 4 hour, flexibly-timed session provides incites into contributing factors like playing time, instrument design, physical conditioning…; anatomy commonly-affected (hand/wrist/arm; neck/shoulder/back; face/TMJ…); ergonomic flute and head joint strategies (key extensions, swan neck, end-blown…); practicing and playing tips (physical warmups/ stretches/ strengthening…); and, avoidance & self-care of TMJ dysfunction and other "overuse syndromes".
To musically complement the projected, slide-oriented presentation 2 or 3 short jazz pieces are intermittently played by the presenter(s), joined by select audience members. Following a usually-lively "Q and A" , the session ends with everyone playing, and/or singing, an arrangement based on Gershwin's "I Got Rhythm", titled "Fluting (Playing) Pain Free", lyrics by Chip Shelton.
The following video is excerpted from a 45 minute presentation at the February 29, 2020 (Centennial) NY Flute Club, Annual Flute Fair.
Overview
There is a digitally-projected, interactive presentation of the information, followed by Q & A.
Key information is re-stated in musical performance, featuring Shelton performing sax, flute, vocal, and percussion, plus accompanying musicians; and targeting to include  pre-selected workshop attendees in the performance (assuming prior rehearsal plan)
Help! How to Play Alto & Bass Flutes Without Pain – Having had a co-career as a board certified orthodontist (Ret.), Shelton shares prevention and self-maintenance insights into "overuse" syndromes that beset, not only flutists, but instrumentalists of all types.
As a longtime member of the Performance Health Care Committee of the NFA, Shelton is regularly called upon to present Performance-Workshops at conventions, appear on educational panels, and perform in feature concerts.
Plan Be™ Your Dream – Gives creative-minded participants, age 12 through adult, a unique look at career-planning alternatives, based on the Shelton book "Excel In Two Careers…A Plan Be™ Your Dream Book".